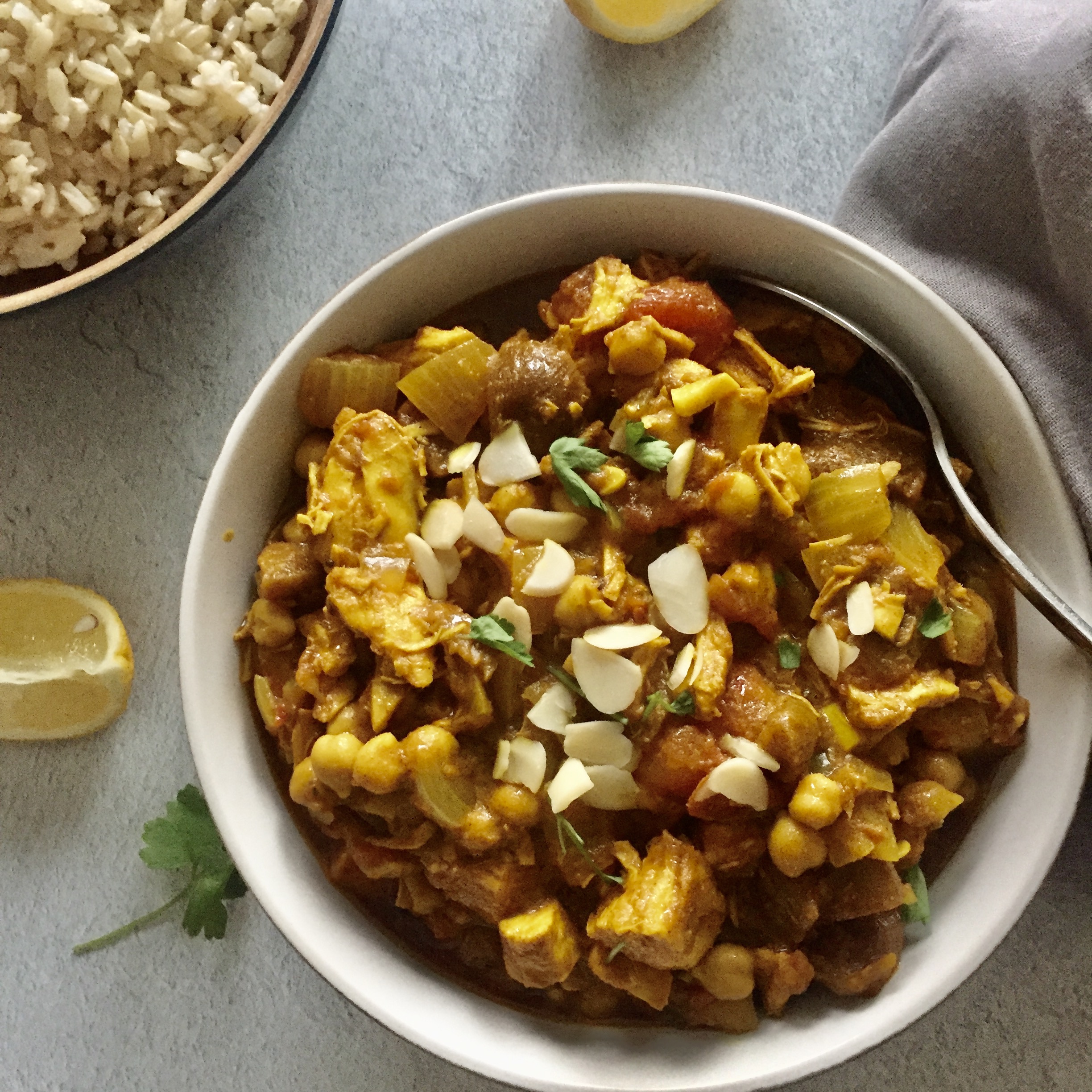 Serves 4 – Requires 2 hours marinating
4 chicken breasts, cubed
1 tbsp harissa paste
1 tbsp hemp or coconut oil
4 shallots, sliced
2 garlic cloves, crushed 1 tsp ground cinnamon 1 tsp ground cumin
1 tsp fresh ginger
1 tsp ground turmeric pinch of dried chilli 450ml/16fl oz chicken stock
100g/3½oz dried apricots, quartered
1 x 400g tin chopped tomatoes
x 400g tin chickpeas, rinsed, drained
salt and pepper
tbsp mint, chopped
2 tbsp parsley, chopped flaked almonds
Mix the chicken breasts with the harissa paste in a bowl until well combined. Cover with cling film and chill in the fridge for two hours.
Heat the oil in the base of a heavy-based casserole dish. Fry the chicken for 2-3 minutes. Remove from the dish using a slotted spoon and set aside.
Fry the shallots for five minutes, or until soft. Stir in the garlic and spices.
Add the meat back to the dish, along with the stock, apricots and tomatoes. Season with salt and freshly ground black pepper.
Bring to the boil, cover with the lid and simmer for one hour. (Add the chickpeas after 45 minutes and stir until well combined.)
Stir in the mint and parsley at the end of cooking, garnish with flaked almonds.
Optional
Serve alongside millet, rice or quinoa with coconut yoghurt.
Recipe from Nuala Hume, part of her 'Clean Eating' recipe e-book for nutritionists