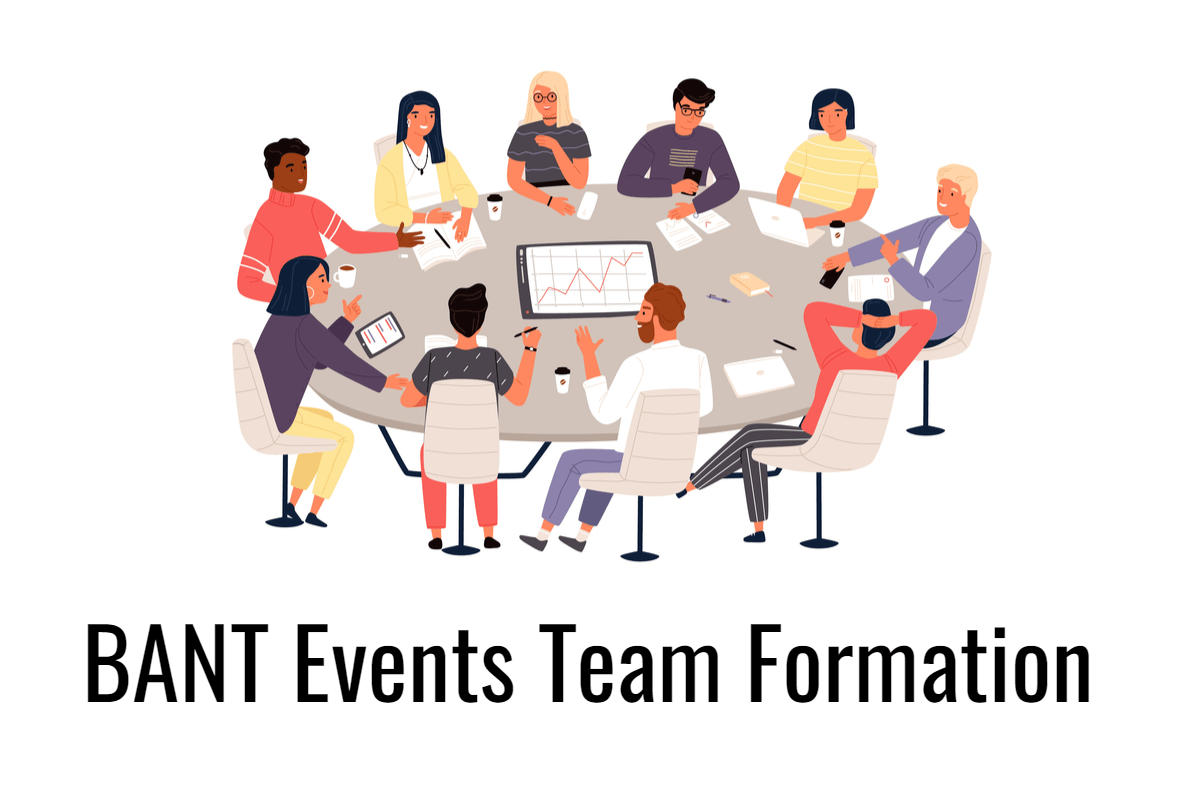 19 May 2022

BANT has formed a new Events Team!

At BANT we believe that events offering stimulating BANT-recognised CPD from leading educators, engagement with sponsors & exhibitors, networking and being together should be accessible to as many members as possible. We see BANT branded Regional Events as an important contribution to our opportunities, as a community of professionals, for connection and community. Accessibility includes ensuring that there there are events outside of the London area which is so well served.
How were Regional Events created in the past?
Pre-pandemic, BANT had up to five fully functional volunteer-run Regional Branch committees: South West, South East, Midlands, North and Scotland. In addition to supporting the Local Networks in their area these committees organised regular "Regional Events", one or sometimes two per year.
During the pandemic restrictions all bar one of these teams dissolved. The South West branch survived and even thrived, continuing to create and deliver great events by going online and introduce new features like Facebook Lives with sponsors and exhibitors.
The dissolution of the other teams presented BANT with a dilemma. How best to return to a yearly programme of events?
How best to bring back Regional Events?
To ensure capability to plan and deliver multiple events per year, including a mix of virtual, face to face outside of London, and potentially hybrid, the decision was made to form a new 'central' Regional Events Team. Rationale for the change included consideration of how quickly we could rebuild capacity and how well that team could be supported with best practices, resources, connections and tools to help simplify the challenges involved in preparing and hosting events.
In recognition of the significant work involved in creating events and the value of considerate, compassionate team leadership, a new Regional Events Team Lead role was created. In early 2022, a recruitment effort was launched to secure a team lead and team members. Reflecting the incredible kindness of BANT members to give the benefit of their time and talent through volunteering with BANT, this effort was successful, and a new team formed up in early April.
This new Regional Events Team began work with all the benefits of good practices from our Regional Branches and close connectivity with BANT workstreams and collaboration partners.
Celebrating our new Regional Events Team!
Our new team is led by the very capable Jo Bridger, who previously chaired the South West Regional Branch. Hence Jo arrived into the role with great experience of guiding the South West Branch team through multiple events, including in-person and virtual. Members of the Branch, Emma Dawson, Phillipa Parish and Jillian Kirkman also chose to join the team.
Joining this core of experienced event-makers are nine new volunteers, bringing in a blend of experience including planning, marketing, budgeting, facilitation and of course, essential energy, ideas and a willingness to learn on the job! You can these wonderful people on our new Regional Events homepage and you will hopefully meet them in person, or virtually, at an event in the near future.
Thanks to the work begun we expect to have two or three events in 2022, and more still in 2023 including more in-person or hybrid events combining in-person and virtual participation options.
Join the team?
Whilst our Regional Events Team is currently well staffed there will absolutely be opportunities for others to join and help in the future. Being a Team Member means being part of a talented, motivated team, networking purposefully to secure event speakers, sponsors and exhibitors, learning new skills such as project management and marketing, and being part of something that provides huge benefit to many peers.
Beyond being part of the core working team, there will also be opportunities to get involved by helping to set up, facilitate and host on the days of in-person events.
If you have any events experience, or do not yet but have the energy to develop them, together with a passion for delivering highly appreciated events, then please reach out to our Volunteer and Networks Manager for a chat anytime. Just write [email protected]
Tell us what you like?
Future BANT Regional Events will always be shaped by what members tell us they want most.  The best ways to tell us are to respond to our periodically issued Regional Events surveys, or write to the team anytime at [email protected]
For example, write to suggest an event theme, or a great speaker, or a potential sponsor or exhibitor. All suggestions very welcome!