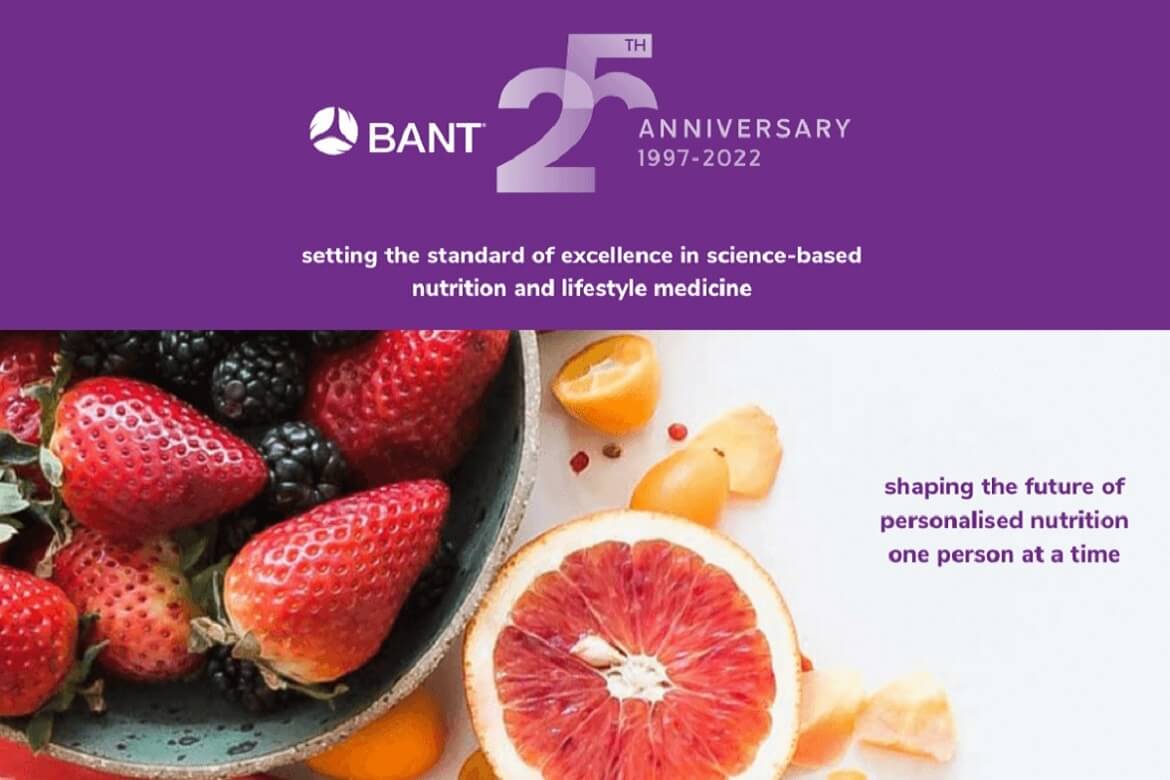 14 Mar 2022

BANT celebrates 25 years as the leading professional organisation for Nutritional Therapy Practitioners

Setting the standard of excellence in science-based nutrition and lifestyle medicine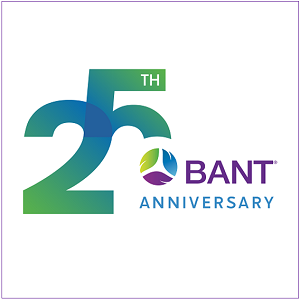 The 14th of March 2022 marks a landmark anniversary for BANT as it celebrates 25 years as the leading professional organisation for practitioners of nutrition and lifestyle medicine. Founded in 1997 with a handful of members and the ambition to shape the future of personalised nutrition one person at a time. Fast-forward 25 years and BANT membership has swelled to over 3,300 members, composed of , composed of CNHC Registered Nutritional Therapy Practitioners and BANT Registered Nutritionists®.
The profession has taken great strides in this time, not just in numbers, but in public recognition for a more personalised approach to health and wellbeing. A growing tide of people now recognise that the 'one size fits all' approach is flawed, giving strength to the personalised nutrition and lifestyle medicine movement. Generic dietary guidelines for population health have repeatedly failed to halt the rise in non-communicable diseases. As the health of the nation worsens, more people are seeking individual support for their symptoms. This is creating a new and greater demand for nutrition practitioners and highlights the growing gap in primary healthcare provision. The premise for all of this being, that we are all different and nutrition should be tailored to the individual for greatest success.
This is echoed in the healthcare reform speech given by The Rt Hon Sajid Javid MP delivered on the 8th of March. He clearly set out his plan for the NHS, based on 3 pillars: Prevention, Personalisation and Performance, and actively calls for more people power and the 'right to choose' treatment plans. The parallels with personalised nutrition and lifestyle medicine are clear. Are we finally on the cusp of a long-awaited paradigm shift?
Excitingly the science continues to evolve, and we know more about our individual genetic makeup and how our lifestyle choices can influence health outcomes. The important role that our gut microbiome plays in health has entered the public domain and is now common knowledge. Twenty-five years ago, no-one was talking about 'beneficial bacteria'! So too are the links between diet and mental health being openly discussed and accepted. The critical role nutrition plays in diet-induced illness and conversely, disease-prevention, is no longer a question but a statement of fact. The evidence clearly guides us to the conclusion that we can no longer ignore the importance of a 'healthy' diet. BANT is especially dedicated to promoting nutritional science with the 2019 launch of its Nutrition Evidence Database (NED). The open access database provides a comprehensive platform for practitioners, academic researchers, and students to access the latest nutrition and lifestyle research.
As we celebrate the successes of the past 25 years we also turn to the future, with the hope of seeing greater recognition and the integration of personalised nutrition and lifestyle medicine into the mainstream health services. If Sajid Javid sticks to his reforms this should be possible. BANT will continue to promote the profession and our members as passionately as we have during these last 25 years.
Join us in our celebrations throughout the year.
Visit Politics Home
Read all our latest press releases at Politics Home.
https://www.politicshome.com/members/article/bant-celebrates-25-years-as-the-leading-professional-organisation-for-nutritional-therapy-practitioners
NOTES TO EDITORS:
The British Association for Nutrition and Lifestyle Medicine (BANT) acts as a professional body for CNHC Registered Nutritional Therapy Practitioners in one-to-one clinical practice and as a self-regulator for BANT Registered Nutritionists® and is home to over 3300 members. BANT oversees the activities, training, and Continuing Professional Development (CPD) of its practitioners and has a governing council, who may be non-members but whose professional experience lies in the medical, scientific or educational area of nutritional science.
Registered Nutritional Therapists are regulated by the Complementary and Natural Healthcare Council (CNHC) that holds an Accredited Voluntary Register (AVR) for the Professional Standards Authority for Health and Social Care (PSA). A report by the Royal Society for Public Health and the Professional Standards Agency made a key recommendation that AVR practitioners have the authority to make direct NHS referrals, in appropriate cases, to ease the administrative burden on GP surgeries. BANT Nutrition Practitioners are the key workforce asset to harness 21st century lifestyle medicine to tackle the rising tide of stress-related fatigue, obesity, Type 2 Diabetes, dementia and other chronic diseases.
To find a BANT Nutrition Practitioner, please click here
BANT WELLBEING GUIDELINES:
The BANT Wellbeing Guidelines are specifically designed to provide clear, easy to understand general information for healthy diet and lifestyle when personalised advice is not available.
BANT launched its "Food for your Health" Campaign in February 2021 to provide open-access resources to help guide the public towards healthier food choices in prevention for diet-induced disease. Download a wide range of food and lifestyle guides, recipes, infographics, planning tools and fact sheets and start making healthy choices today.