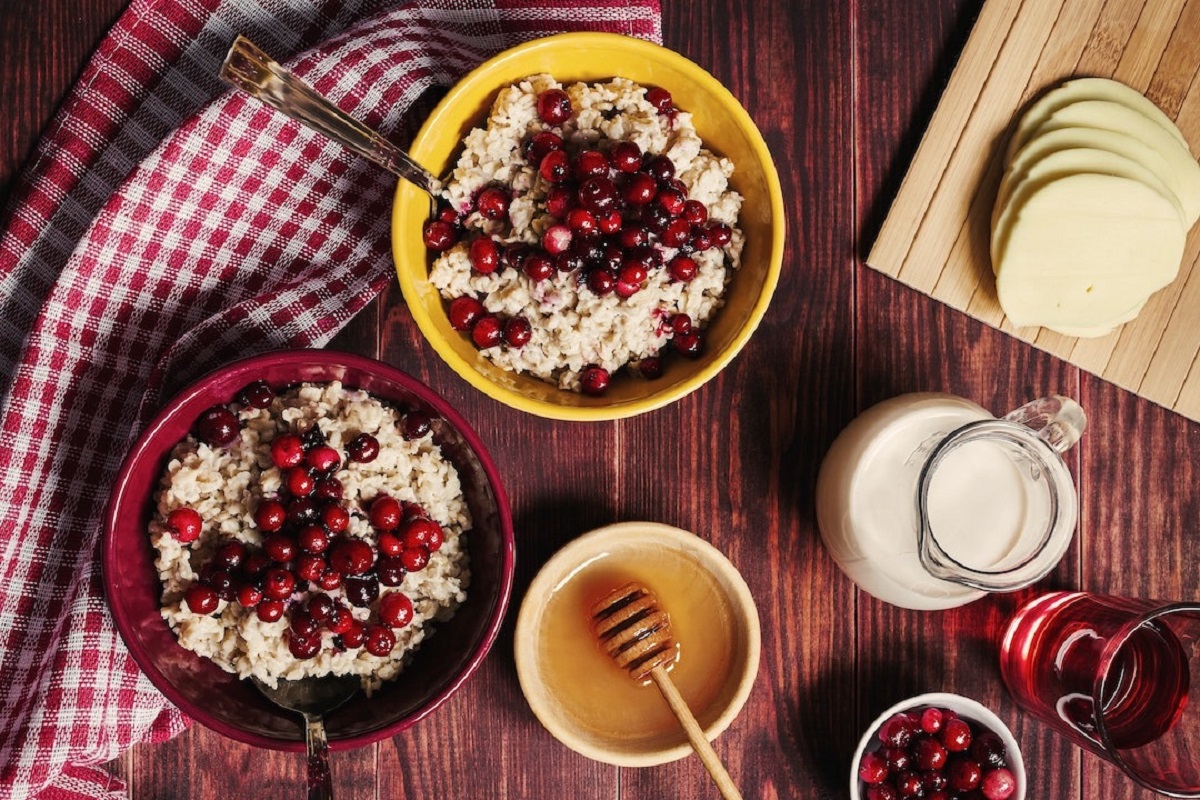 19 Nov 2021

Nutrition Evidence Alert – November 2021 – Depression and the Microbiome
Welcome to the November edition of the Nutrition Evidence Alert.

As we draw into the winter months with the pandemic still looming over us, it has never been more important to consider our mental health and what we can do to look after it. With a growing interest in nutrition, mental health and the microbiome, this month we welcome Sarah Beecroft to share some insights on this important topic.
Interaction between the digestive system and the brain has become increasingly important in recent years, with phrases such as 'the gut is the second brain' or the 'gut-brain-axis.' being commonly used. These multidirectional interactions indicate a significant role of the gastrointestinal microbiome in the modulation of the central nervous system and research is showing promising results with 'psychobiotics' – meaning probiotics which may influence our cognitive function through microbiota modulation.
Sarah is a Registered Nutritional Therapist practising in the North East and specialising in mental health and the microbiome after spending two years researching this topic for her MSc thesis. She now supports a variety of clients, from children to the elderly, to support their mental health through nutrition and is involved in higher education. Sarah believes that opening the conversation about nutrition and depression is the first step in improving mental health in our society and is very keen for the challenge.
Have a look at the expert reviews from Sarah on this topic and see below for Sarah's top picks of the research. For further reading, check out this list of 38 resources.
Recommended Blog and Podcast this month
The Brain Gut Microbiome Axis with Dr. Emeran Mayer
The Science Of Mood And Your Microbiome with Dr Mark Hyman
How our microbiome might affect our mental health by The World Economic Forum
From our Guest Editor Sarah Beecroft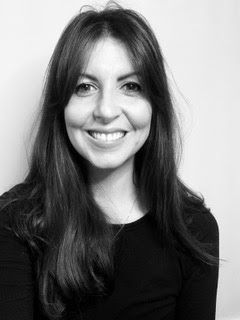 Sarah is a Registered Nutritional Therapist and completing a master's degree in Nutritional Therapy from the Northern College of Acupuncture in 2020. Following a ten-year career in internal medicine nursing in the veterinary industry, Sarah decided to make the switch to human health care and retrained as a RNT. (SRole of the intestinal microbiome, intestinal barrier and psychobiotics in depression. arah shares that a lot of similarities can be drawn from veterinary practice where microbiome modulation and even FMT (faecal microbiota transplantation) is becoming increasingly common practice.)
Sarah's special interest lies in the gut-brain-axis and how our gastrointestinal microbiome may affect our mental health. The focus of her MSc critical narrative review was on what evidence is available for dietary interventions reducing symptoms of depression in adults and how. Her nutrition clinic in North Yorkshire, Food Body Mind, offers support to those experiencing mental health issues through nutrition.
Sarah is also a lecturer and Module Leader at the Northern College of Acupuncture on the MSc Nutrition Science & Practice programme, and soon-to-be BSc Personalised Nutrition.
These are Sarah's top picks of research:
Current perspectives on gut microbiome dysbiosis and depression. Advances in Therapy. 2020
Gut Microbiome and depression: how microbes affect the way we think. Cureus. 2020
Role of the intestinal microbiome, intestinal barrier and psychobiotics in depression. Nutrients. 2021.
Recognizing depression from the microbiota-gut-brain axis. International Journal of Molecular Sciences. 2018.
Towards tailored gut microbiome-based and dietary interventions for promoting the development and maintenance of a healthy brain. Frontiers of Pediatrics. 2021.
Gut feelings: A randomised, triple-blind, placebo-controlled trial of probiotics for depressive symptoms. Journal of Affective Disorders. 2019.
Interleukin-6 Gene Expression Changes after a 4-Week Intake of a Multispecies Probiotic in Major Depressive Disorder—Preliminary Results of the PROVIT Study. Nutrients. 2020.
Exploring the role and potential of probiotics in the field of mental health: major depressive disorder. Nutrients. 2021.
NED InfoBites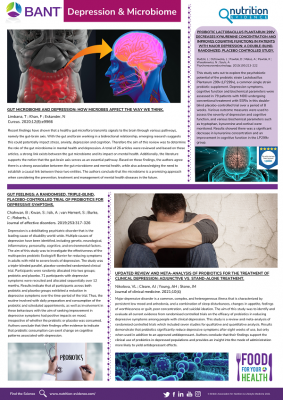 We believe in simplifying science to help everybody understand the evidence behind nutrition. Our scientific NED InfoBites are especially designed to provide you with a snapshot of the latest research in a simple one/page format.
Download our InfoBite on Depression and the Microbiome
Browse our library of InfoBites here.
Discover more about the BANT Food for your Health Campaign

BANT is spearheading the 'Food for your Health' campaign to raise awareness of the benefits of personalised nutrition and lifestyle medicine and to educate the public on making healthy food choices to prevent and manage metabolic conditions, including those associated with overweight and obesity. Click through to our campaign page for a range of free resources https://bant.org.uk/food-for-your-health/ including our NED Infobites, designed to help simplify the science and help everybody understand the evidence behind nutrition, and our Eat a Rainbow infographic to help you include more colourful plant foods in your daily diet.