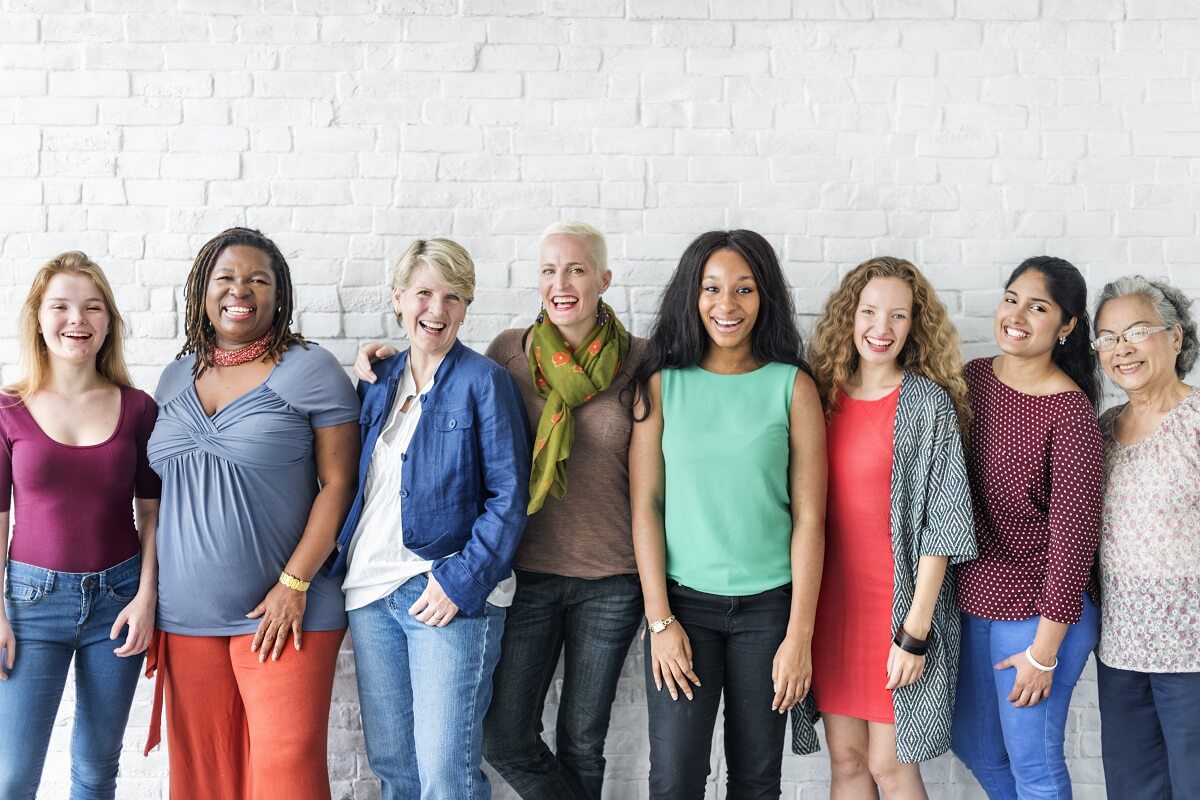 15 Oct 2021

Nutrition Evidence Alert – October 2021 – Menopause
Welcome to the October edition of the Nutrition Evidence Alert.

Mood swings, anxiety and brain fog are common issues for women in their early 40s onwards, as they enter the peri-menopause and subsequent menopause phases of their lives. Diet can be a key player in helping to balance hormones and address deficiencies that may be fuelling some of the common symptoms, such as depression, hot flushes, compromised bone health and central adiposity.
Nutrition can support a healthy menopause in many ways and the science is growing in this area. The role of phytoestrogens, healthy fats including omega-3, omega-6 and olive oil, flavonoids and even beer have been studied and found to play a positive role in reducing symptoms. There is also a significant body of evidence of the impact of supporting the gut microbiome and collagen intake for bone health in post-menopausal women.
Our Guest Editor this month, Jackie Lynch, brings to our attention the latest evidence on perimenopause and beyond.  You can access her top picks of the research below.
To expand your reading, the editorial team has selected 88 Randomised Controlled Trials released within the last 5 years on nutrition, lifestyle and the menopause.
Happy researching!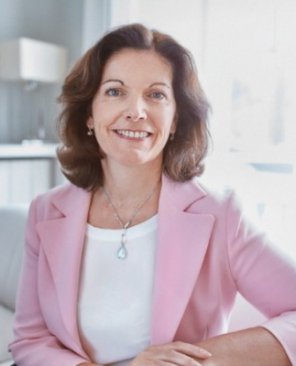 Jackie Lynch is a Registered Nutritional Therapy Practitioner, Fellow of the British Association for Nutrition and Lifestyle Medicine (BANT) and founder of the WellWellWell nutrition clinic, winner of the 2020/2021 Prestige Award for menopause Nutrition clinic of the year, where she specialises in women's health and the menopause.
Since 2012 she has been the Chair of the Institute for Optimum Nutrition, the renowned training provider of accredited nutritional therapy training. During her tenure she has overseen the transition from the ION Diploma in Nutritional Therapy to a BSc, in partnership with the University of Portsmouth, an immensely proud moment for the organisation. In May 2021 she was recognised as a Fellow of the British Association for Nutrition and Lifestyle medicine (BANT) for her contributions to the nutritional therapy profession.
Keen to break the taboo about discussing the menopause, Jackie launched the popular diet & lifestyle podcast The Happy Menopause in 2019 and her latest book The Happy Menopause: Smart Nutrition to Help You Flourish was published in 2020.  She is also the author of Va Va Voom: The 10-Day Energy Diet and The Right Bite: Smart Food Choices for Eating on the Go.
These are Jackie's top picks of research:
Depressive Symptoms in Middle-Aged and Elderly Women Are Associated with a Low Intake of Vitamin B6: A Cross-Sectional Study. in Nutrients. 2020
Probiotic supplements and bone health in postmenopausal women: a meta-analysis of randomised controlled trials. in BMJ Open. 2021
Botanicals in Postmenopausal Osteoporosis. in Nutrients. 2021
Moderate Consumption of Beer (with and without Ethanol) and Menopausal Symptoms: Results from a Parallel Clinical Trial in Postmenopausal Women. in Nutrients. 2021
The Mediterranean Diet in Osteoporosis Prevention: An Insight in a Peri- and Post-Menopausal Population. in Nutrients. 2021
Effects of Dietary Phytoestrogens on Hormones throughout a Human Lifespan: A Review. in Nutrients. 2020
Nutrition in Menopausal Women: A Narrative Review. in Nutrients. 2021
Effects of Soy Foods in Postmenopausal Women: A Focus on Osteosarcopenia and Obesity. in Journal of obesity & metabolic syndrome. 2020
Association between body mass index and fragility fracture in postmenopausal women: a cross-sectional study using Korean National Health and Nutrition Examination Survey 2008-2009 (KNHANES IV). in BMC women's health. 2021
Depressive Symptoms among Middle-Aged Women-Understanding the Cause. in Brain Sciences. 2020
Effects of Hormone Therapy and Flavonoids Capable on Reversal of Menopausal Immune Senescence. in Nutrients. 2021
Menopause-Associated Lipid Metabolic Disorders and Foods Beneficial for Postmenopausal Women. in Nutrients. 2020
Associations between Diet Quality and Anthropometric Measures in White Postmenopausal Women. in Nutrients. 2021
Vitamin D Boosts Alendronate Tail Effect on Bone Mineral Density in Postmenopausal Women with Osteoporosis. in Nutrients. 2021
Effects of DHA-Rich n-3 Fatty Acid Supplementation and/or Resistance Training on Body Composition and Cardiometabolic Biomarkers in Overweight and Obese Post-Menopausal Women. in Nutrients. 2021
Total estimated usual nutrient intake and nutrient status biomarkers in women of childbearing age and women of menopausal age. in The American Journal of Clinical Nutrition. 2021
Diet to Reduce the Metabolic Syndrome Associated with Menopause. The Logic for Olive Oil. in Nutrients. 2020
Download our NED Infobite on Nutrition in Menopause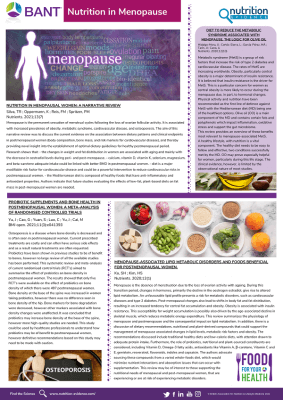 We believe in simplifying science to help everybody understand the evidence behind nutrition. Our scientific NED InfoBites are especially designed to provide you with all the latest research in simple terms and plain language. Simply download the ones that may apply to you and discover the science behind nutrition.
Discover more about the BANT Food for your Health Campaign

BANT is spearheading the 'Food for your Health' campaign to raise awareness of the benefits of personalised nutrition and lifestyle medicine and to educate the public on making healthy food choices to prevent and manage metabolic conditions, including those associated with overweight and obesity. Click through to our campaign page for a range of free resources https://bant.org.uk/food-for-your-health/ including our NED Infobites, designed to help simplify the science and help everybody understand the evidence behind nutrition, and our Eat a Rainbow infographic to help you include more colourful plant foods in your daily diet.