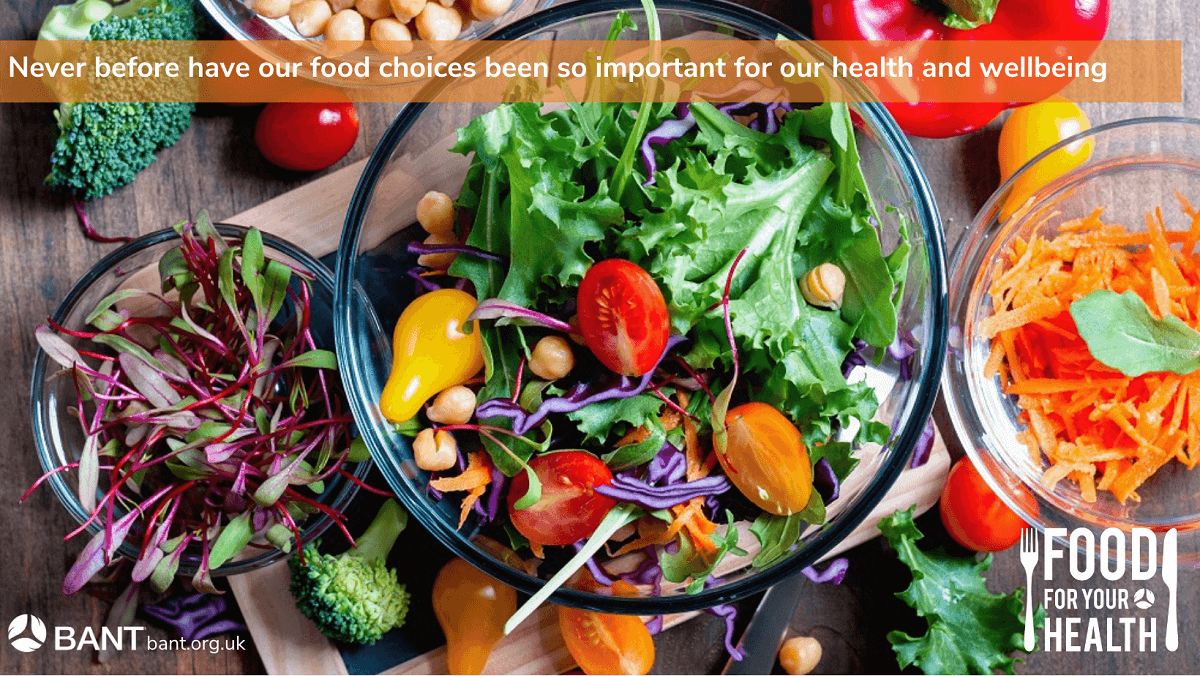 01 Mar 2021

BANT calls for recognition of personalised nutrition with the launch of their Food for your Health campaign

BANT (British Association for Nutrition and Lifestyle Medicine) has campaigned for improved nutrition initiatives for over twenty years but is now consolidating its knowledge and reputation with the launch on 22 February 2021 of its own long-term campaign entitled: Food for your Health.

The campaign aims to engage political and healthcare leaders, alongside a call to action for the public to make healthy diet and lifestyle choices by adopting a food first approach. The underlying objective is to achieve greater recognition of the importance of personalised nutrition, as practised by BANT nutrition practitioners, as compared to generalised public health campaigns which continually fall short of delivering improved health outcomes. Diet and lifestyle are modifiable factors that individuals can embrace in the pursuit of improved health and wellbeing. The importance of individual health has never been so apparent as during this current pandemic. Encouraging people to make simple but effective steps to optimise their nutritional intake as prevention for diet-induced illness is fundamental to improving the overall health of individuals, and the nation.

The UK is facing an unprecedented health crisis in the form of growing obesity rates and related metabolic dysregulation (Type 2 Diabetes, Non-Alcoholic Fatty Liver Disease and other related conditions). The in-use nutrition models have consistently failed to address the personal underlying triggers which effect each person differently and which are often the key to optimising the health of that individual. Personalised Nutrition based on a one-size-fits-one model is the way forward for prevention of diet-induced chronic disease. "The one-size-fits-all model is ineffective and out-dated. It's time to move forward from counting calories and start promoting the nutrient content and quality of food" commented BANT CEO, Satu Jackson.

The Food for your Health Campaign is unique in acknowledging the modifiable factors present in obesity and related metabolic conditions. The campaign infographic, available here, cleverly illustrates this in graphical form, and is one of many tools and resources available online at https://bant.org.uk/food-for-your-health/.

In acknowledgement of the fact that personalised nutrition is not currently accessible to all, the campaign blends a mix of general guidelines with personalised tools to encourage people to focus on their individual health concerns. These include tracking tools to monitor body composition and symptoms, informative fact sheets to explain the common symptoms of metabolic dysregulation, along with practical food guides and recipes to encourage cooking with whole, fresh, and seasonal ingredients. The campaign is scheduled to run for a minimum of 18 months and more information is available here.