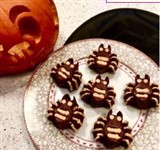 30 Oct 2017

Student Bulletin

In this edition we've got a FINAL reminder for the BANT student webinar today at lunchtime!  A free seminar on gut health at various dates around the country and a healthy Halloween recipe.
BANT Student Webinar: Moving forward once you've qualified; exploring social media and digital marketing will begin TODAY!
Mon, Oct 30, 2017 11:00 AM – 12:00 PM GMT
If you're looking to run your own business in nutrition once you've qualified, digital marketing will be an important tool to increase your exposure and ultimately bring in new clients. This webinar will guide you and discuss May's strategy and approach since she qualified with her MSc in 2014 from CNELM.
About May Simpkin
May is a BANT registered Nutritional Therapist with a Masters Science degree in Personalized Nutrition. She is an experienced clinician, practicing functional medicine from an evidence base, providing the latest research into nutrition. She is also Chair of the Continual Professional Committee at BANT, a role that allows her to stay up to date with the latest training providers.
She sees clients on a 121 basis in London/Surrey and runs cooking workshops from her home as well as a yoga health retreat in France twice a year. She has a website which she regularly updates with blogs, recipes and events and has built a mailing list of around 800, mainly clients or those subscribing for a free eBook. She has amassed over 16K Instagram followers in 2 years and is also active on Twitter and Facebook.
Instagram: maysimpkinnutrition
Twitter: @MaySimpkin
Facebook: May Simpkin Nutrition
To ask May any questions prior to the webinar, please go to www.linkedin.com/groups/BANT-Student-Members-Group-4061266 and add your questions to the webinar post.
BioCare: Gut Adaptation – with Alessandro Ferretti – FREE Seminar
Our biggest interface with our environment is our gut, and, even more interestingly, it hosts a huge biological community with which we have evolved and which plays a critical, co-operative part in facilitating health adaptation. In this seminar we will explore the key roles of digestion, motility, integrity and the microbiome and how they interact with all body systems. Join us for free, high quality education and the opportunity to network with your local colleagues!
This seminar is completely free!
The next couple of dates are:
| | | | | |
| --- | --- | --- | --- | --- |
| Tues | 7 Nov | 10am-4.00pm | The Hub, Coldean Lane, University of Brighton | Sussex |
| Tues | 14 Nov | 10am-4.00pm | Kings Manor, University of York | York |
Details on other dates around the country  can be found HERE
To book your place at one of BioCare UK seminars CLICK HERE, email Jacqui at [email protected] or call 0121 433 8774.
Beetroot Brownie Bugs
This recipe was developed by recent ION graduate, Catherine Pohl. Catherine loves to make healthy snacks for her children, and has shared this one that sneaks beetroot into their brownies!  Beetroot is a great source of B vitamins, particularly folate (B9) and many minerals such as manganese, potassium, iron and magnesium which are all essential for good energy production. It also contains a good dose of vitamin C too, to supercharge the immune systems.  The recipe does include a reasonable portion of sugar, but not nearly as much as commercial bought cakes and combining it with the fibre in vegetables should slow down its release into the bloodstream and help avoid sharp spikes in blood sugar.
Ingredients:
125ml coconut oil, melted
150g sugar (I used coconut palm sugar, you could use any brown sugar such as demerara)
1 egg
100-200mls milk (I used almond milk, but any type is fine)
2 teaspoons vanilla bean paste
250g wholemeal flour (I used spelt for extra nutrients, gluten free flour would also work well)
40g cocoa powder
1 1/2 teaspoons baking powder
250g grated root veg or veg pulp* (I used beetroot and carrot)
*optional* 100g dark chocolate chips
*I used left over veg pulp from my juice here, but you could just grate the whole vegetables, in which case reduce the milk to 100 mls
Method:
Preheat the oven to 180 C / Gas 4. Grease (with a little oil) and line a 20x30cm baking tin or prepare trays for 12 cupcake cases.
In a large bowl, mix together the oil, sugar, egg, milk and vanilla until well blended. At home I use my mixer to speed up the process, but when working with the children mixing by hand is fine (and significantly less stressful!)
In a separate large bowl, combine the flour, cocoa powder and baking powder.
Stir the liquid mixture into the dry mixture until well combined, then add the veggies and chocolate chips (if using).
Portion the mixture out into the cupcake cases or spread evenly into the prepared tin.
Bake for approximately 25 minutes for the cupcakes, 30 minutes for the tin, until the cakes spring back when gently touched. Leave to cool for 10 minutes before turning onto a wire rack.
I'll be honest, I decorated these ones with some not-so-healthy buttercream, but the kids were only too happy to devour many of them straight from the baking rack before I had a chance to get to the icing stage!
More details can be found on Catherine's Real Food Nutrition blog HERE
… don't go yet – if you have any recipes, reviews, book recommendations or comments , or there's something you'd like to see, please send it to [email protected] or post it on our LinkedIn page (BANT Student Network). Or don't forget twitter (@BANTonline) and our Facebook account (BANT Members Group). We'd love to hear from you!