In this issue we continue to look to the future with another webinar with information for the all-important life after study, a new look at an old diet and a recipe to celebrate chocolate season (aka Valentine's Day).
Free BANT Student Network Webinar: 'Evidence Based Practice vs. Personalised Practice'
We would like to invite you to our next BANT Student Network Webinar with Michelle Barrow titled "Evidence based practice vs. Personalised practice". On Thursday 23rd of February from 7:30 – 8:30 pm, the webinar is free and exclusive to BANT student members!
The webinar explores the meanings of evidence-based and personalised practice.  Evidence based medicine has had numerous criticisms over the last few years but does personalised medicine provide the answers?  We'll explore various meanings of 'personalised nutrition', one being personalised to the individual's needs and another that refers to genetic profile based interventions. The strengths, limitations and ethical consideration of personalised, evidence-based, nutrition practice will be reviewed. More questions may be raised than answered, but these questions are essential for informed practice.
An engaging speaker, Michelle has a first class degree in Nutritional Therapy, a Masters (MSc) degree in Evidence-Based Practice and is currently studying for a professional doctorate (DProf) at Middlesex University. As well as running a private practice Michelle works as Head of Education at the Centre of Nutrition Education and Lifestyle Management (CNELM).
Click here to book your place or e-mail Alma or Becky at [email protected] by Friday 17th February 2017
Joy Skipper's previous webinar 'Beyond Nutritional Therapy' be viewed here 

Reducing Dietary Acid Load
US researchers published a review in Advances for Chronic Kidney Disease that postulated that humans consumed a predominantly alkalising food throughout most of our evolution. Hence, "humans may be poorly adapted to contemporary acid-inducing diets". It was suggested that dietary "acid-inducing foods, such as meats, eggs, cheese and cereal grains, and base-inducing foods, such as fruits and vegetables" should be balance to mitigate further kidney damage, potential bone and muscle loss and ageing. However, it was highlighted that further studies with hard outcomes are needed to determine benefits of a food-based approach.
Read the full article here
Raw Cacao and Maca Superfood Vegan Truffles
This recipe comes courtesy of Alice Benskin, a CNELM graduate.
Ingredien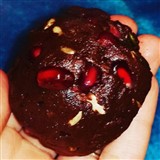 ts:
2 tbsp of coconut oil
1/2 cup of maca powder
1/2 cup of raw cacao powder
1 tsp of turmeric powder
1/2 cup of pomegranate seeds
1/4 cup of goji berries and mixed seeds
1 tsp of tahini paste
Method:   
Melt coconut oil and mix maca and cacao powder together. Then add the turmeric, pomegranate, goji berries, mixed seeds and tahini. Stir together until thick paste and then shape into round balls. Place in the fridge for 10 -20 mins.
If you've got any recipes, comments or there's something you'd like to see, send it to [email protected]