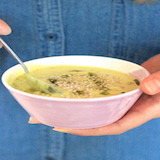 27 Sep 2016

Student News Bulletin

This fortnight, an expensive textbook is now available free online, eating nuts is linked to healthy biomarkers of inflammation, the first of a new series highlighting benefits available to BANT students, and a recipe for a warming saffron, cauliflower and tahini soup.

Core student textbook available online

Students will be pleased to hear they now have access to the textbook Laboratory Evaluations for Integrative and Functional Medicines by RS Lord and JA Bralley. It is an organised explanation of the various tests available in clinical practise, their interpretation and clinical application. This valuable tome is very hard to get hold of and, if you do manage to lay your hands on a copy, it can be very expensive. So to be able to read it free online is a great advantage. Access it here.

Study shows that eating nuts is associated with lower inflammatory biomarkers

Increasing our consumption of nuts has been linked to a reduced risk of cardiovascular disease, type II diabetes and a healthy lipid profile. A study recently published in the American Journal of Clinical Nutrition sought to investigate the associations between eating nuts and inflammatory biomarkers. The biomarkers fasting plasma C-reactive protein (CRP), interleukin 6 (IL-6) and tumor necrosis factor receptor 2 (TNFR2) were analysed from two large cohorts of men and women in America – in total 5013 subjects. These results were compared to the frequency of the consumption of nuts. After adjusting for variables, it was found that a greater intake of nuts (3 servings a week, substituting for red and processed meat, eggs or refined grains) was associated with lower levels of inflammatory markers. Read more here.

BANT student member benefits

Benefits for student members of BANT are often overlooked, but are numerous and often extremely useful. In order to make sure students are getting the most out of their membership, we are running a series highlighting each one to make sure nobody misses out.

One of the most helpful to students in clinic and with assignments is access to the Natural Medicines Database. Normally, the cost to subscribe is £149 but we get access for free. Included in this free subscription is
Interaction checker between all drugs and different natural medicines
Effectiveness checker, to compare the effectiveness of a natural medicine for a specific condition
Nutrient depletion checker
In-depth evidence tables and comprehensive review of evidence
Pregnancy and lactation checker including adverse effects
Client handouts and consumer monographs in English, Spanish and French
BANT provides a link to the Database via the Centre of Excellence area, under Evidence-Based Database. Visit the Natural Medicines Database from the BANT website here
Warming saffron and cauliflower soup
Ingredients
200g cauliflower
A pinch of saffron
1 bay leaf
1 small clove garlic, diced
½ teaspoon black mustard seeds
350ml water
1 tablespoon tahini
1 tablespoon lemon juice
Salt and pepper
Method
Chop the cauliflower into small pieces and place in a large saucepan along with the saffron, bay leaf, garlic and mustard seeds.
Cover with 350ml water and bring to the boil. Once it has boiled, turn down to simmer for a further 15 minutes.
Stick a knife in the cauliflower after this time to check it is tender. If not, leave it for a further 5 minutes.
Once cooked, transfer it to a blender along with the tahini and lemon juice. If using an immersion (stick) blender, just add the tahini and lemon juice directly to the pan.
Blend until smooth and creamy, seasoning with salt and pepper to taste. If eating straight away, transfer back to the pan to warm it up.
Serve sprinkled with sesame seeds, a drizzle of olive oil and a good hunk of well buttered bread.
Recipe by Rosalind Bates of A Manner of Eating. View the recipe here.