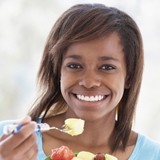 16 May 2016

Student News Bulletin

This week we look at research around the benefits of fruit and veg, finishing with a shot of alcohol research.  Firstly, researchers from Boston found that eating fruit and vegetables was associated with a lower incident of breast cancer.  Researchers from the University of Warwick identified a combination of plant compounds that induced the beneficial metabolic enzyme Glo1.  And Danish researchers looked at the effects of alcohol intake on two health outcomes in post-menopausal women.
Fruit and vegetable consumption in adolescence and early adulthood and risk of breast cancer: population based cohort study
Research published in the British Medical Journal (BMJ) looked at how fruit consumption in adolescence and vegetables and fruit in early adulthood impacted the development of breast cancer.  It was concluded that consumption was associated with lower breast cancer risk, adding, "Food choices during adolescence might be particularly important", Read more.
Fruit compounds improved glycemic control and vascular function in overweight and obese subjects
Researchers from the University of Warwick published a paper in the journal Diabetes that investigated whether the combination of two plant derived compounds trans-resveratrol (tRES) and hesperetin (HESP) could induce expression of enzyme glyoxalase 1 (Glo1).  Glo1 can block methylglyoxal (MG), a driver of insulin resistance and blood vessel damage.  A supplement containing tRES and HESP was demonstrated to increase Glo1 activity, reduce insulin and blood vessel inflammation.  Read abstract.
Five year change in alcohol intake and risk of breast cancer and coronary heart disease among postmenopausal women
A Danish study published in the BMJ looked at the alcohol intake of post menopausal women over five years.  It showed that women, who increased their alcohol consumption by 1 to 2 drinks a day, compared to those with stable alcohol intake, moderately increased their risk of breast cancer and reduced their risk of coronary heart disease.  Read more.

Back to News & Events mens nike air max 90